WordPress as a CMS, its do'able but not so obvious; finding or understanding the information on how to do it can be quite complex.
For example when you search using these keywords: WordPress as CMS…
1) you'll find premium skins like Remix 2 ($75) that'll do it for you but to me that going against the whole open source "thingy"
2) you'll find WordPress how to(s) and discussions on the matter and examples of it being used as a CMS
3) you'll find how to(s) on how to do it the right way with special coding, lol
Simply put you'll find everything but…
1) go to your setting page
2) find your "Reading" settings
3) now set your front page to a static page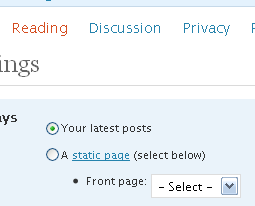 Now, you will need to make that specific page before you can set it as the frontpage. Please don't tell me that what I am suggesting is simply a work-around. To me the only difference between WordPress and any CMS is the homepage's content.
Beg to differ? Comment Away.