Not too long ago a close buddy of mine, got his computer infected with a virus. Only because a message popped up saying his computer was infected and that he should run a scan. Little did he know that the alert was a fake. It was actually the virus asking for permission to install itself on his computer. Needless to say… even if you aren't tech savvy you need to know what is and isn't installed on your computer. In the end I got the virus off for him and his system was saved but it took some work to get rid of it.
Okay, enough rambling. It's called XP AntiSpyware 2009. It is disguised as a real anti-spyware program…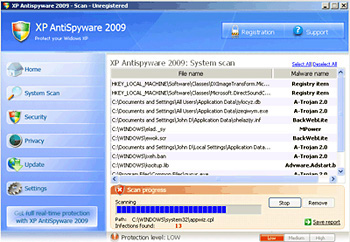 What it does is sends out fake alerts urging you to fix your computer. Be alert. If it gets access to your system, porn links and the such will abound your desktop.
There is software on the net to remove it, but the only one I was able to find to actually work and for free is this one… Malwarebytes' Anti-Malware. So, if you run into the mentioned virus, give it a try.
-Thuan