About a week ago I had the pleasure of watching all of Afro Samurai Season 1 on DVD; non-stop, of course.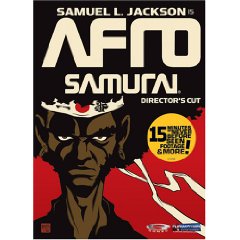 And with all the hype I will have to say I am quite disappointed. The graphics was good. The action was there. But IMO, the plot was seriously lacking.
Honestly though, the Afro's fight with his old buddy the Teddy Bear Man was bigger and better than his fight with #1 (the person who killed his dad, the former #1).
Hopefully season 2 will be more enjoyable.
Rating: 3.5/5 – It's a good watch and all but not a "Must See It Immediately" anime.