September 6th, 2008 Filed Under Web
WordPress as a CMS, its do'able but not so obvious; finding or understanding the information on how to do it can be quite complex.
For example when you search using these keywords: WordPress as CMS…
1) you'll find premium skins like Remix 2 ($75) that'll do it for you but to me that going against the whole open source "thingy"
2) you'll find WordPress how to(s) and discussions on the matter and examples of it being used as a CMS
3) you'll find how to(s) on how to do it the right way with special coding, lol
Simply put you'll find everything but…
1) go to your setting page
2) find your "Reading" settings
3) now set your front page to a static page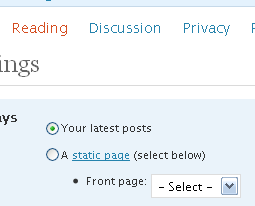 Now, you will need to make that specific page before you can set it as the frontpage. Please don't tell me that what I am suggesting is simply a work-around. To me the only difference between WordPress and any CMS is the homepage's content.
Beg to differ? Comment Away.
July 9th, 2008 Filed Under Free Software, Web
If you are into the hottest latest thing… Firefox 3 is out and is pretty good. I for one will have to wait until all the developers of my favorite addons catch up before I update my version.
July 9th, 2008 Filed Under Sys. Admin, Web
Yesterday, one of my computers couldn't access the internet. The weird thing was, I had done nothing to it and all my other computers we still able to access the net. So after half an hour of troubleshooting, I decided to wait things out.
Today, July 9, 2008, I still couldn't get to any websites with it. So, I did a little more trouble shooting and found that the culprit was my firewall, ZONEALARM. It was blocking all my internet connections.
I search the web for a while using these sets of keywords and found nothing:
zonealarm blocking all websites
zonealarm blocking internet connection
zonealarm block all sites
Until I used these keywords:
zonealarm no internet access
And found a post which helped me temporarily resolve my connection issues, click here.
As explained in the thread: the problem was a mix of a Microsoft Update (KB951748) and Zonealarm. So if you are using Zonealarm Free per my suggestion, temporarily set your Zonealarm internet security to "Medium" until Zonealarm fixes this issue. Oh, and the reason it was only one of my computers experiencing the issue is because it was the only one I set to "Automatically update Microsoft Updates".
February 29th, 2008 Filed Under My 2 Cents, Web
There seems to be different Fantastico versions out there because my Fantastico on Lunarpages is limited on what it offers. What out any suprise, what they lack I really need.
For example: phpBB, Drupal, and Gallery are all missing from the list of scripts. I looked up other host like Hostgator, Bluehost, and Siteground to see what they offered and it seems that only Lunarpages has this version.
So I called Lunarpages and asked about it and after some time and transferring of calls… I got this answer, "Our support team removed all those programs for security reasons." For some reason I don't think that is a very accurate answer or a bunch of crock. If those scripts are such a threat then why are all the other host still offering them?
Anyways, I am stuck with them for another 1.75 year, lol. If I had known that they didn't offered those scripts before signing the contract… I would probably with another host.
So if you are looking for a good host and are considering, be warned that Lunarpages' version of Fantastico is "incomplete."
February 19th, 2008 Filed Under My 2 Cents, Web
If no one has found any problems with downloading/installing/using WordPress plugins, let me be the first to say, "I have!" and I hate it of course. The plugins I spent hours if not days carefully selecting were very useful… until I updated my WordPress version. The minute I did that many of the plugins simple stop working or didn't work right.
After I realized it was because I upgraded my WordPress, I went to the "plugins" section in WordPress and found that over half the plugins needed to be updated. Unfortunately, the majority of them came from different providers. That means I needed to go to each providers site to download and reinstall each of them.
The thought of such a task was just too daunting so I deleted almost all of them and kept the ones I deemed necessary. With that said… there needs to be an easier way to "auto update" our lovely plugins. Hopefully, our superb WordPress programmers will think of something soon.
February 16th, 2008 Filed Under Code, My 2 Cents, Web
With the YouTube craze spreading like a wildfire, last summer ('07) I took some time to enable Noteful.COM with YouTube. Users can now visually depict their thoughts using YouTube videos. The code wasn't hard and thanks to C.K. Sample's blog (here), it was even easier…
<object type="application/x-shockwave-flash" data="[INSERT VIDEO URL FROM EMBED CODE PROVIDED HERE]" width="400" height="326"><param name="movie" value="[INSERT VIDEO URL FROM EMBED CODE PROVIDED HERE]" /><param name="FlashVars" value="playerMode=embedded" /></object>
With this code I can also allow users to embed Google Videos as well, this would have to be done soon before I fall behind. More and more video streaming sites are hitting the web that are a must for me. Stage6, for example is on the top of my list. If anyone has any advice on this, please comment. 🙂
October 22nd, 2007 Filed Under Sys. Admin, Web
I have been evaluating Noteful.COM's Alexa Ranking and notice that it changes drastically from time to time.  Why is this happening?
My professional guess… It is because very few people actually install the Alexa Toolbar.  How do I know this?  Remember… I am a system administrator.  I have seen my share of "other people's" systems.  People generally use the default MS IE without any addon toolbars.  For more savvy people, they use FireFox which doesn't support Alexa.
My current opinion of Alexa is if Amazon (Alexa parent company) doesn't do something to get more people caught onto it's Ranking System soon it will be too late.
October 16th, 2007 Filed Under osCommerce, Web
Below are my recommendations for cheap reasonable, reliable website hosts:
Lunarpages.com
+ Affordable Plans ($6.95 monthly)
+ Decent Support
+ Linux and Windows Hosting ($8.95 monthly)
++ (10) Free Addon Domains
++ WHM (web hosting manager)

Siteground.com
++ Affordable Plans ($5.95 monthly)
++ Excellent Support
– Linux Only Hosting
– – Only (1) Domain

Hostgator.com
+ Affordable Plans ($6.95 monthly)
+ Decent Support
– Linux Only Hosting
++ Good Reseller Plans
++ WHM (web hosting manager)

Godaddy.com
++ Dirty Cheap Hosting ($3.99 monthly)
– – Poor Service
– No cPanel
++ Up-to-date Software
Please note that it really depends on what your goals are and what you need your site to do. Give me a ring if you can't decide or need help.
October 8th, 2007 Filed Under Design, Dotnetnuke, Web
Installing DNN on shared hosting as always been a hard task. And to think I'd have it down by now. I at least remember by heart the basics:
Download the software from the DNN site
Upload the files to the shared hosting
Ensure permissions for the ASP.net user are correct
Setup the database and user
Config the webconfig, ie. enter in the DB connection data/string
Go to browser, invoke install @ http://mydomain.com/install
Change admin and host passwords
Thats is normally it, unless you run into permissions problems; which is often on shared hosting servers.
But while trying to setup my Freedotnetnukeskins.com on Lunarpages.com servers, we (support and I) discovered that the directory "skins" CANNOT be used as your virtual directory. My guess is this might be in the DNN manual somewhere, but we were using the "auto install DNN" plesk so it was hard to pick out.
September 28th, 2007 Filed Under My 2 Cents, Web
Getting a free website is not a hard task. There are many companies offering free starter packages, with an option to "upgrade" at a later time. The upgrades are of course not free, and their end goal.
The free hosting packages offer limited disk space, starting from 5mb to approximately 500mbs. The majority of free hosting packages are ad supported, meaning, a portion of your free website will host their ads.
This is not true for all free web hosting offered, hence, this tutorial. I spent a good full day searching for these free packages, several promising companies simply were asking for too much at registration or their registration system was too confusing.
Below is a list of companies that I have been able to successfully sign up with. For each company listed below I provide the host url and link.
FreeWebs.com
FreeServers.com
50Megs.com
TriPod.com
ZeroCatch.com
TopCities.com
ProHosting.com
AwardSpace.com
Geocities.com
For a visual of these hosts in action click here.